Finally had some time to sit down and fritz around with some new(ish) Microsoft technology that I've been meaning to catch up on for a while (Visual Studio 2008, Microsoft MVC and some other stuff).
And it's good - in fact great. Really streamlines web based development and makes things much faster to develop.
Anyway I won't bore everyone with the tedious technical details, here's a screenshot of the first part of the application: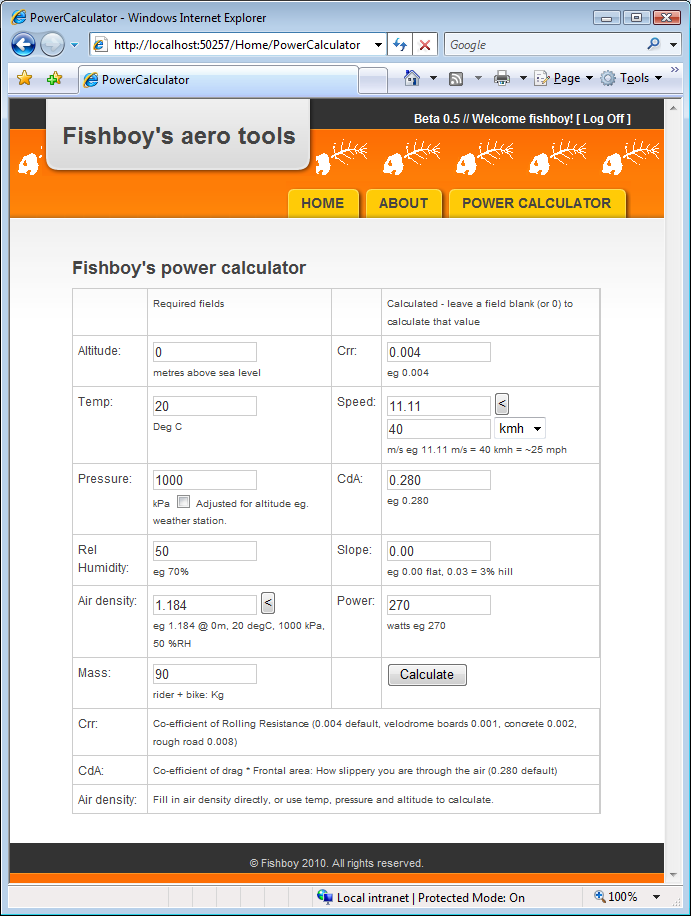 A brand spanky new power calculator that does, amongst other things, calculate one of Crr/CdA/Slope/Speed/Power from given information, draw a graph of power v speed for current CdA/Crr, and generate split times for a variety of length rides from 20k to Ironman®.
Kind of like analytic cycling, but roided up for the 'teens (we are 2010 now after all). Plus I fixed the stuff that annoyed me over there (sorry Tom Compton) like not having CdA as a single measure, and having to calculate metres/sec all the time from kmh (divide by 3.6). Also now that I programmed in a proper air density calculator, it should be a lot more accurate than guessing at air density values all the time.
Anyway there is a bit more to do on this, but should have something publically available before I have to go back to work towards the end of Jan.
I'm thinking conversion of imperial units for altitude (ft -> metres), temperature (deg F -> deg C), and pressure (inHG -> kPA), plus an override for pressure for people who actually have their own portable weather station (Andy Coggan: Google Wattage for one ;-)), rather than the sea level reported pressure.
CTL up to 50. Big week, including riding with some A graders. Ouch.