I've been riding in the wrong helmet most of the season... :(
At least that is what the data says.
The simple assumption that new = better isn't necessarily so.
Here it is folks: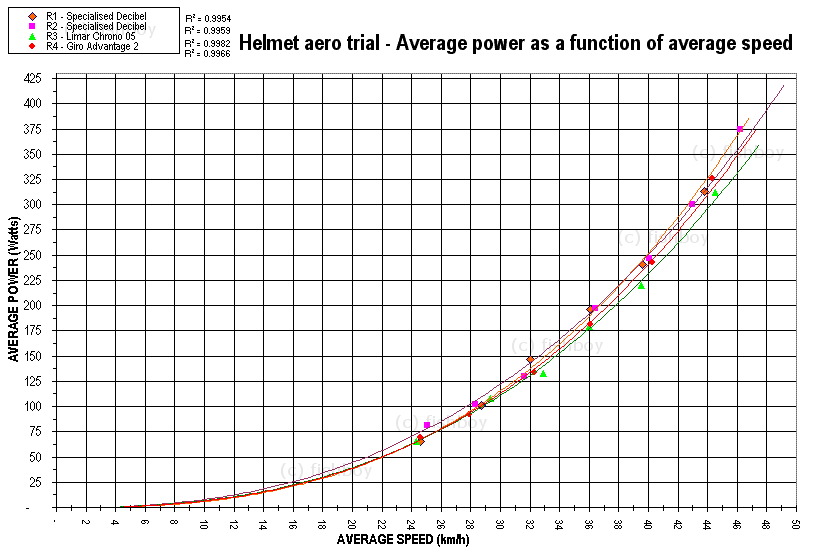 Orange and pink are the Specialised Decibel (least aero/non aero helmet).
Next best is the red circle of the Giro Advantage 2 (more aero).
Best is the Limar Chrono 05 in green (most aero).
I did have 2 outlying data points over 46 kmh, but I omitted them because it added more noise - probably cause power delivery at those higher speeds is a bit hit and miss (it's hard to control the application of 430 watts in a controlled manner - at least for me! - and hard to sustain that power for a long enough period that the speed stabilises.
So time savings; how much:
200 watts





KM......Decibel...Advantage2...Chrono




Av KMH.....36.6......37.2......37.9





time on course (hh:mm:ss)





KM......Decibel...Advantage2...Chrono




20......0:32:47...0:32:15...0:31:40




40......1:05:34...1:04:31...1:03:19




90......2:27:32...2:25:10...2:22:29




180.....4:55:05...4:50:19...4:44:58





savings (hh:mm:ss)





KM......Decibel...Advantage2...Chrono




20......0:00:00...0:00:32...0:01:07




40......0:00:00...0:01:03...0:02:15




90......0:00:00...0:02:23...0:05:04




180.....0:00:00...0:04:46...0:10:07
Seems amazing that the choice on an aero lid can save you over a minute in a Sprint race, and more than 10 in an Ironman...
Remember this is based on 200 watts - if you are faster than this, it is even more important to have an aero lid!
Grain of salt time:
Are the results accurate? You tell me. Carefully designed experiment - careful test protocol, careful evaluation of results. As accurate as I can get.
Repeatable? Possibly. The whole experiment needs to be done again, and maybe a third time before we can see that it is repeatable and therefore 'admissable as evidence'.
Believable? Why is the Giro slower than the Chrono? Well the wind tunnel eyeball test confirms:
- The Giro has front vents, the Limar has none
- The Giro is taller and wider at the front than the Limar
both these factors should hurt the Giro
but
the Giro has a longer tail, and side burn covers that should make it lower drag than the Limar.
Would you get the same time savings if you used these helmets?
Possibly. This data is based on a 188cm dude on a P3C in a pretty aero position. If you aren't like that then the magnitude of the savings might be different. In general terms you are likely to have lower drag and faster times with the same helmets as shown above.
Improvements:
- More helmets
- Indoor venue (although wind less than 10kmh doesn't seem to have affected control runs to a measurable extent, particularly in the important business zone of 36 to 41kmh)
- Wind tunnel comparison to validate??
Any other suggestions?
fishboy ;)